FEBRUARY!! This month is going to be a blast! You see, all of you reading this email have such a special spot in our hearts. We are so grateful for the opportunity to serve our practice members and the Ralston community and we want to show our appreciation a couple different ways…
FIRST, we want to showcase a local business and give an amazing opportunity for all prospective practice members or those REFERRING OTHERS to experience an amazing business opening right down the street. I saw the "coming soon" sign and I just knew I wanted to work with them! I immediately approached the owner, Vicki, to share with her our vision at Restore and to learn more about her services. We quickly hit it off and realized we serve the same ideal client! (THAT WOULD BE ALL OF YOU!)… People dealing with stress related conditions that can manifest in many physical forms. Vicki shared with me her history of chronic migraines and I explained how we can help; and we are currently helping her body heal – she's on the path to experience life changing results that so many of our practice members already have! She actually was blown away by the attentive care that we provide. It was the start of a fantastic relationship! We want all of you to experience the service that she provides because it works perfectly with what we do! Her business is AFLOAT Mind + Body Wellness and we can't wait to tell you all about it! How does this benefit you? Well, for the month of February…
If you are a prospective patient and have been curious about the care we provide, we will give you a free 75 minute Float Experience with your initial chiropractic appointment!
If you are a current practice member, remember we are always thinking about YOU! We will give YOU a free 75 minute Float experience for sending in a family member, friend, colleague, or anyone that wants to see if Chiropractic is a good fit for them.
It is a WIN WIN!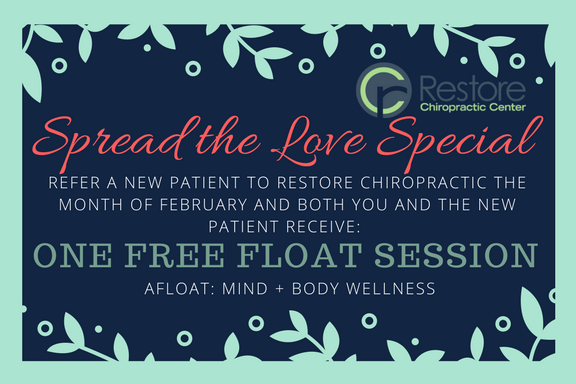 The SECOND way we are showing our appreciation is our Anniversary Party! Join us February 11th from 4-7 pm for drinks, food and prizes – our way of saying we love you and thank you for your endless support! If you know us well, you know that we throw quite a party. You don't want to miss our chance to thank you! Bring your friends and family and enjoy a great night on us!
The month of February think of all the gratitude you have in your life. Tell that person or better yet; show them! We hope YOU feel the love from us!
Dr. Niki, Dr. Bethany and the Restore Team