When the topic came up to write about "gratitude", I jumped at the chance. My heart is completely overflowing with gratitude these days!
Let's start out, first and foremost, that I am extremely grateful for the wonderful, healthy, amazing birth of my daughter Mae just two weeks ago! Everything went great as Mae decided to make a speedy arrival after about two hours of labor. I can't believe how much she's changed already, getting bigger every day!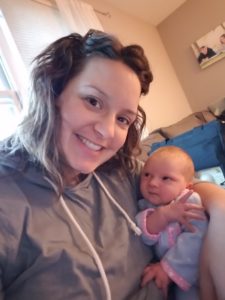 What is also making my heart explode with gratitude is this time that I'm getting to spend one-on-one with her and taking care of myself, recovering after having a baby. I have to say a huge THANK YOU to Dr. Niki and everyone at Restore for making this possible! It is extremely tempting for me to jump right back into the busy schedule of work, early mornings, and dropping kids off at child care – mainly because I miss the office and seeing all of our awesome practice members so much… we think of you all as family! But instead of jumping back too soon, I am realizing that taking time for myself and my family right now is top priority. I can picture what it would be like to skip out on this time for myself and my health, it wouldn't take long before I'd become worn down, my immune system would struggle, and my body wouldn't be able to handle or adapt all that additional stress. I would end up "sick." Your body has a way of telling you these things in a not-so-subtle way. I wouldn't be able to take care of our practice members in the office in the high standard that we set, and taking care of my family would suffer also. And that made me think, this is exactly the type of person that we see come into our office all the time — but these people haven't been taking care of themselves for a lot longer. They have been struggling with these issues for years!
So, as we embark on this busy holiday season around the corner, I want you to consider – what is a top priority in your life that you may not be setting aside enough time or energy to fulfill? Are you grateful for your health, but not making it a priority to do the things daily that it requires to be healthy? Is there a chronic problem that you've been meaning to do something about, but just can't find the time? Life is too short and too precious to "just live with these things." Show your gratitude to yourself first by making time for you! Get your health on track so you can be the best possible version of yourself for you and your loved ones. They deserve it too!
Can't wait to see all of you in a few weeks!
Dr. Bethany