I look forward to my appointments and am so pleased and proud of the changes my body has made while under their care and my quality of life now.
"For many years, I suffered with Vertigo, migraines and sciatica pain. I have sought professional help for all three and everything that was offered was basically just a band-aid.
I am not a fan of taking medications, so I learned to live with or tolerate the migraines and sciatica pain with over the counter pain reliever. Even though it was hard at times to live daily life thru the pain,  I felt I  still had control in my life. With vertigo, I was at the mercy of it's duration and I was told this was something I just needed to learn to live with. The treatment I was doing was violent to my body. I would be totally down for 2-3 days and the affects would last up to two weeks. I was desperate to find a better solution. I was just not ready to give up on my body for this. Early this year when the vertigo became a monthly occurrence, a friend of mine referred me to Restore Chiropractic. I had sought other Chiropractic care for the migraines and sciatica over the years but they were apprehensive on treating me for the vertigo so I was open and ready for a different approach.
8 months ago, while in day five of vertigo I walked into Restore Chiropractic, and Dr. Bethany greeted me with a warm welcome. I asked her if they could do anything for vertigo, she confidently and empathetically told me that they have had success with other patients, so I made an appointment for an exam consultation and they were able to get me in within just a couple days. Just in that initial encounter and with Dr. Bethany's confidence, I felt a new found hope. After the exam, Both Dr. Niki and Dr. Bethany visited with me regarding their finding. They explained how our nervous system detects physical, chemical and mental stressors in our body and with their suggested wellness plan my body would function the way it is meant to be.
Dr. Niki explained the wellness program they were recommending and that it would be both a financial and time commitment. There was no pressure and they were up front about everything. I have never seen a Doctor so excited about the possibility of helping me. She KNEW the treatment she was recommending would work.  It was because of her enthusiasm I made the commitment to my body and I have never regretted one minute of this personal investment as I feel the team is just as invested in me!
I experienced two bouts of vertigo within the first month of my wellness program. I was treated on Day 1. The technique they use immediately proved to me that I do not have to live with this for the rest of my life AND I do not have to get violently ill or endure the side effects for 2 weeks as I did before, so in my mind I was back in control. One big freedom I feel is that I am no longer afraid if I do happen to get vertigo again, as under their care I know my body will not have to experience trauma to get through it. My daughter went with me to one of my appointments and after watching Dr. Niki treat me and listen to her explain the process, she said to me "Mom, how can you not trust and believe in this. She said Dr. Niki's excitement and enthusiasm would make anyone want to keep coming back!"
I am inspired by and admire how the team is so involved with the community and I love witnessing their passion, dedication and enthusiasm to every person they treat and even more so for their commitment to not just treat but to teach their patients and community about the their bodies and the potential to be whole, happy and free of physical, chemical and emotional stress naturally.
What I am MOST GRATEFUL FOR IS THEIR COMMITMENT TO ME.  I look forward to my appointments and am so pleased and proud of the changes my body has made while under their care and my quality of life now. I feel embraced each time I go in for my appointments and enjoy my conversations with Dr. Niki and Dr. Bethany. I have experienced many grace filled moments with them.
The Restore Chiropractic Team are on a mission to make me better. When I am in conversation with someone who is enduring some kind of pain or health issue I proudly say "I no longer have to tolerate any kind of pain…..I have Restore Chiropractic Care!"
 – Mary Lynn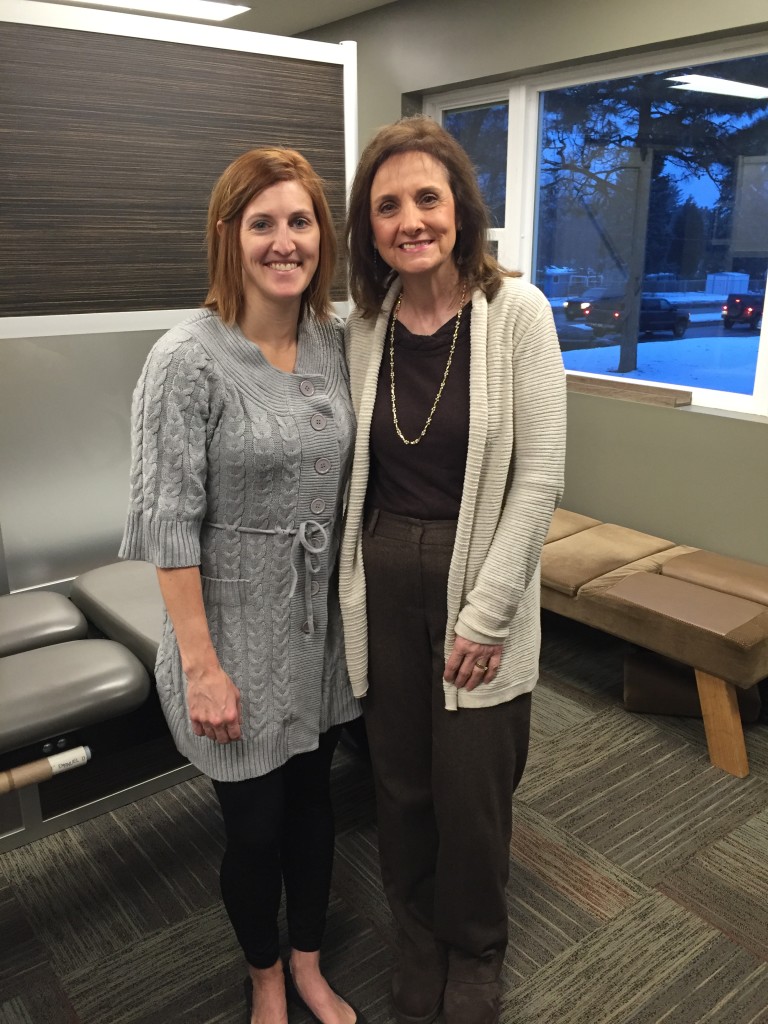 I honestly feel like a new person.
"Before Restore Chiropractic, I suffered from daily headaches, tension, and neck pain for years.  The headaches made it difficult for me to concentrate and even think straight.  I never left home without Aleve, and I was consuming way more than I should have been.  While at work, I was constantly trying to hide from everyone the fact that I didn't feel good.  I would come home and just feel exhausted, and my head would hurt so bad I couldn't see right.  My immediate family were the only ones I would let see how I actually felt. Looking back, I realize I was extremely short with my kids and my husband when I got home.  I would come home and lay on the couch with either ice or heat.
Now, after six months of chiropractic care from Dr. Niki and Dr. Bethany, I feel amazing.  I honestly feel like a new person.  I am so much happier now than I used to be and have a lot more energy.  My headaches, pain, and tension have completely dissipated.  My relationship with my husband has improved, and I am giving my kids the attention they deserve and definitely have more patience with them.  I am even training to run a 5K, something I wouldn't have been able to do last year.  Restore Chiropractic has changed my life!"
-Shannon B.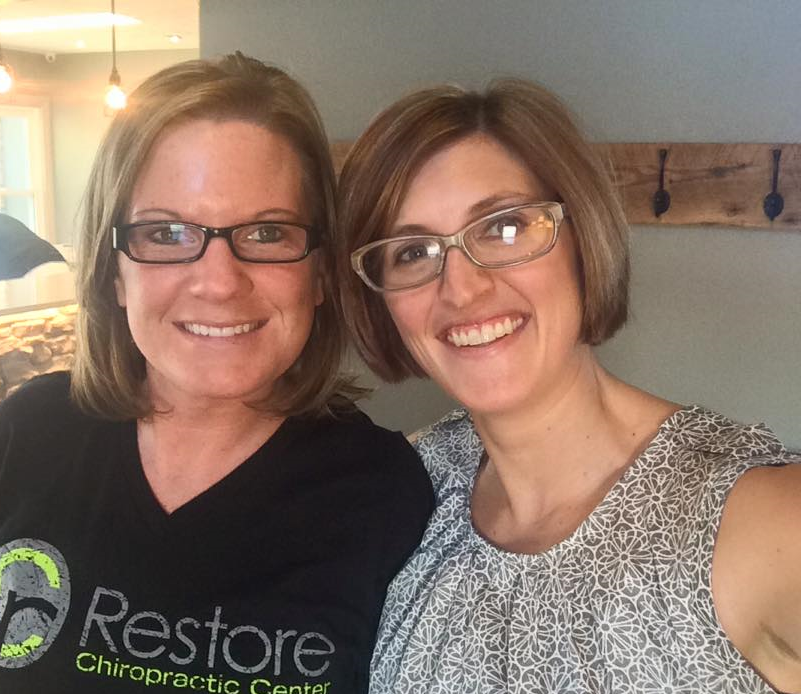 I didn't know how bad I felt until I started feeling good!
"I didn't know how bad I felt until I started feeling good. I came to Restore Chiropractic because things had been gradually piling up until I didn't know what to do with myself anymore and it all came to a head with neck pain like I had never known before. Pain medication was just a band-aid for the root problem and I wasn't even sure what that was. I wanted to not only make the pain stop, but figure out why it was happening. Right from the start Dr. Niki and Dr. Bethany LISTENED to me and put me at ease.  I left the office that day knowing things were moving in the right direction. I had no idea what changes this would bring.
I had never really considered what damage I was doing to my body.  I have always been stressed.  I didn't know how to be any other way. I was just looking for relief for my neck, but my headaches are gone, my blood pressure is down, no more ringing in my ears, no more blurry vision, for the first time in my life I have regular periods, I have avoided colds when I've been surrounded by germs, I haven't had a zit in ages, I have more energy and I would say I'm generally more pleasant to be around.  My relationships have changed. Family members have commented that I seem less stressed! I had no idea things were so bad.  I feel like a new person! I know I'm not done yet, but I feel excited about where I am headed and am so grateful for Dr. Bethany and Dr. Niki."
-Gail J.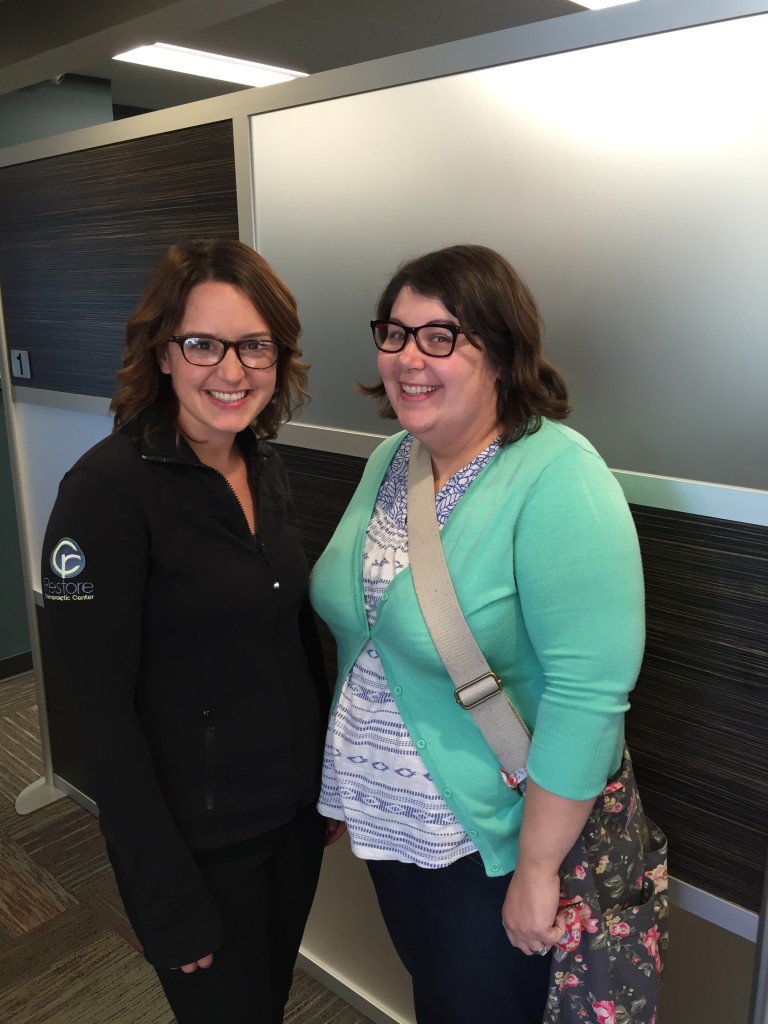 I decided to give it a try for a few weeks and never looked back.
"I have suffered from horrible migraines most of my life. The pain from these horrible things was unbearable and made my life miserable. It was rare to go even two days without getting one. I took every pill imaginable to get any kind of relief but it was always only temporary. I was reluctant about seeing a Chiropractor at first, but one day my friend Jamie introduced me to Dr. Niki who told me she could help. Two years ago, I decided to give it a try for a few weeks and never looked back. Yes, I still get headaches from time to time, but they are not migraines, and the intensity has decreased significantly. I used to get about 20-25 migraines a month, and now I only get about 2-3 low grade manageable headaches. These ladies at Restore have helped me tremendously and I can't thank them enough for the relief, care and kindness they have given me!"
-Lara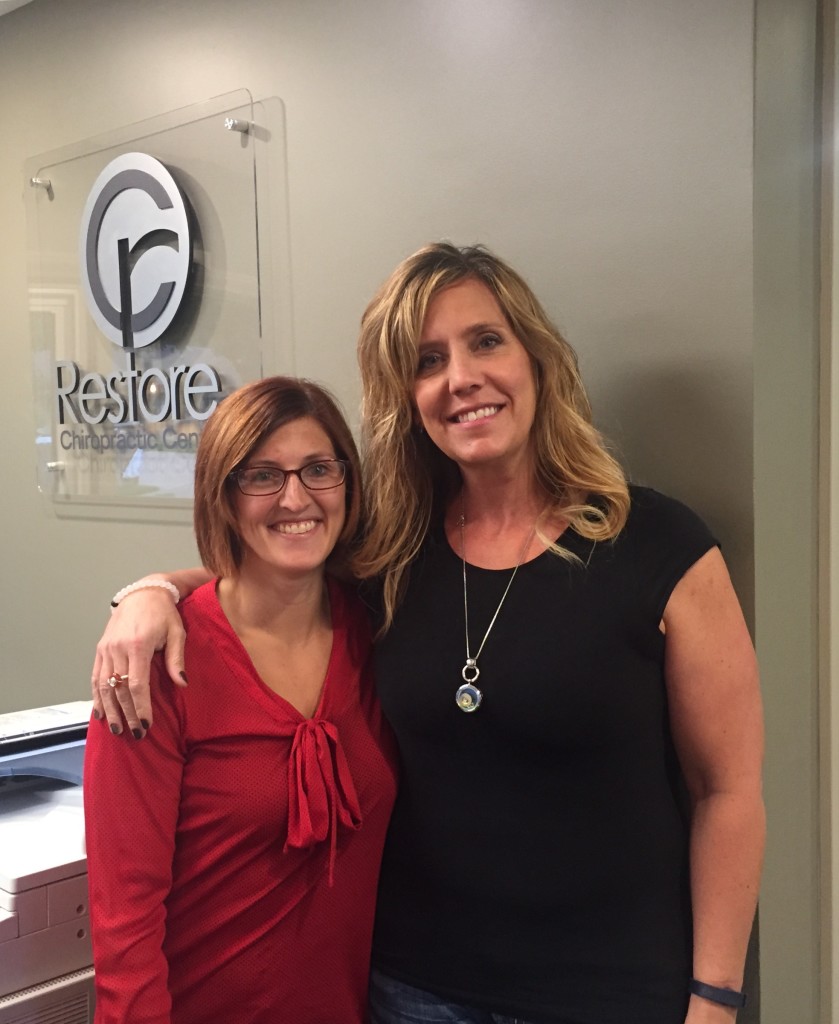 I feel like my body is now in a state of healing, I have surpassed what I originally thought was possible, and I am so excited to see what is next.
"I started treatment at Restore chiropractic to address lower back and hip pain that I had been dealing with for a few years, soon after I started, my daughter also started care.  My daughter had sleep issues since birth and she struggled with reoccurring urinary tract infections since 4 months old.  Her reoccurring infections have stopped and not long after starting treatment she began sleeping through the night and taking regular naps.  My expectation for myself was a reduction of pain but little did I know the treatment I would receive would eliminate my pain, improve my mood, energy levels, sleep habits, and all around quality of life. Before treatment I was in pain caring for my children and it limited exercise to a dreaded 3 block walk to the park with the stroller. As the pain started to subside my energy levels went up but I also felt more relaxed, and my mood improved. My ultimate goal, that I was not sure would ever be possible, was to run
again.  Just recently I have hit the 3 mile mark on a park run.  I feel like my body is now in a state of healing, I have surpassed what I originally thought was possible, and I am so excited to see what is next.  I am so thankful I chose Restore Chiropractic because they are passionate about excellent care, educating clients with the most up to date health information, and bringing the community together to support healing and wellness.   Thank you so much for all of your hard work and dedication to your clients!"
-The Solano Family